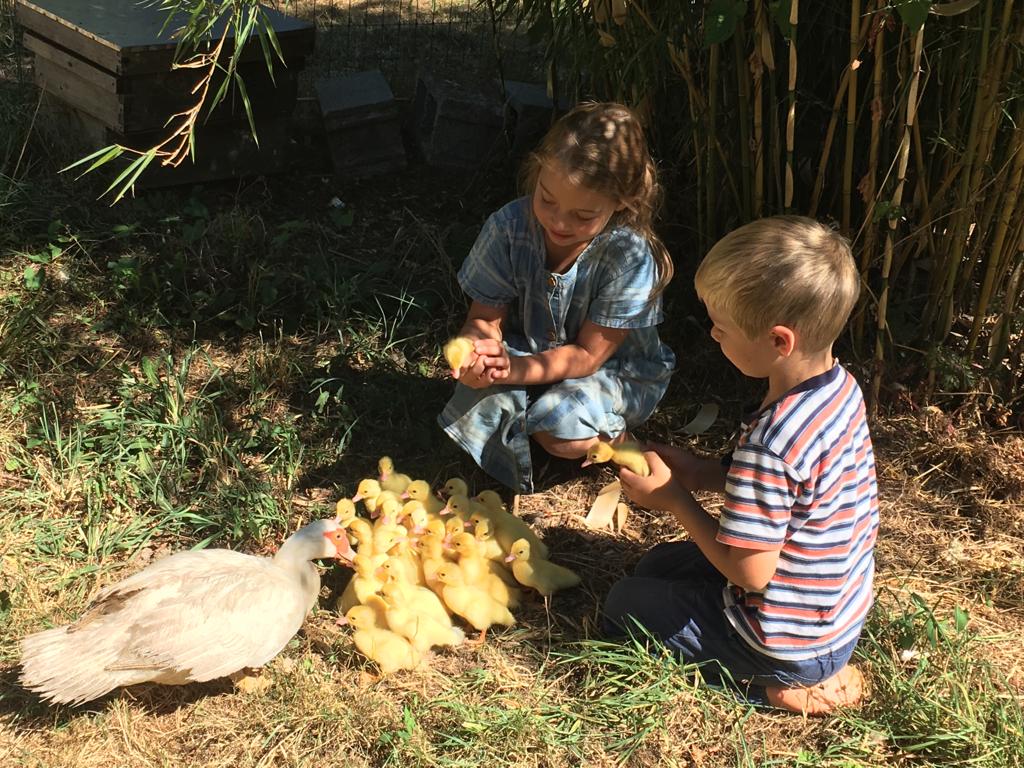 Highlands Farm School is a two-day-a-week program for ages 6-9.
We meet on Tuesdays and Thursdays from 9:15 am to 2 pm from September through May.
Parents join the community as parent helpers for 10 half-day shifts during the school year.
Students learn through active engagement with a 5 acre homestead on the East Renton Highlands. The homestead includes friendly farm cats, rabbits, an English Shepherd dog, chickens, Muscovy ducks, goats, sheep, a mini horse, a Jersey cow and calf, honeybees, gardens, an orchard, pastures, a seasonal pond, a playground and a cedar tree that is great for climbing.
School days start with farm chore and nature exploration time. This includes care, feeding and handling of the animals, gardening, taking a closer look at natural occurrences like spiderwebs, frost and shadows, and skill development such as sawing fallen branches into kindling and stacking wood.
From about 10:30-12:15, we shift to instruction that includes a Bible story, memory work, reading, writing, arithmetic and music as well as character and social skill building. At times students enjoy adding to their nature logs in their own space somewhere on the homestead. Students bring their own lunches. Science, fitness and art are covered between 12:30 and 1:30 pm. The kids have their final recess of the day at 1:30 pm. We encourage parents to arrive at 1:30 pm so that there is time for the adults to connect with the teachers, each other, and the students before departure.
The Highlands Farm School program is designed to help parents meet their educational goals. Parents retain the primary responsibility for the education and upbringing of their children. Each family is expected to participate in the Highlands Farm School community in the following ways:
● Submit the official "Intent to Homeschool" notification to the School District
administration where the family resides in accordance with state law.
● Complete annual testing requirements in accordance with Washington State law.
● Provide diligent instruction in the additional subjects that comprise the balance of
your children's curricula, and on days when the Highlands Farm School does not meet.
● Serve as Parent Helper on a rotational basis.
● Deliver students no later than 9:20 am each school day and arrive for pickup by 1:40 pm at least once a week.
● Be willing to help as needed with academic and community activities such as
coordination of Parent Helper schedule, school field trips, class parties, etc.
● Communicate any concerns and ideas for improvement directly to teachers.
Applications for the 2023-24 school year will be accepted starting February 1.
A farm visit is required as part of the application process.
Join us for a farm visit from 9:15 to 11 am on Thursday, February 9; Monday, March 13; Thursday, April 27 or Monday, May 8.
For more information contact Kathy at HighlandsFarmSchool@gmail.com.