Posted in
Christian Permaculture
,
Farming
on September 1st, 2010 by Nathan –
Comments Off

on Permaculture tour at the Bullock Homestead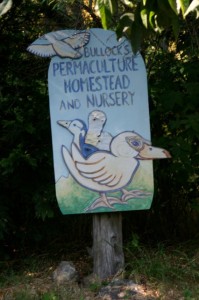 On Tuesday, August 17th, the 4 kids and I joined several others in my Permaculture Design Class to tour the Bullock's homestead on Orcas Island.  We left early to catch the ferry from Anacortes and came home late, but there were enough "rests" during the day that it all came at a reasonable pace.  (What else can you do when waiting at the ferry dock but pick blackberries and take a snooze?)
The Bullock homestead & nursery has been there for 30 years, and it is an excellent example of a "mature" permaculture system.  The main area of the homestead is densely packed as a perennial "food forest".   The 3 hour tour started at 1 PM, and I could tell that we were just getting a taste of the thought, detail and purpose that was behind everything there. 
Everything is carefully laid out, with all the details around fertility, water and waste flows thoroughly worked through.  read more »